MVP Stage
We have our startups and know what "budgeting" means for a startup.
That's why we provide with:
Full Management Transparency

A fully transparent work process and honesty with partners are our fundamental points in building any relationship.

Lean & Agile

If you are in the idea stage with a 90 % probability you will be short in funds.We know how to minimize the efforts and stay agile.

Accurate in Estimates

Originally, MVP development takes 2 - 3 months. If someone says, it takes more - they just cannot work with a startup.Wanna know more?

Know the Difference

We know the difference between Proof of Concept, fake MVP, and Real MVP., and what about you?
Launched Startups
№. 1 __ 17
Loading
Loading
Loading
Loading
Loading
Loading
Loading
Loading
Loading
Loading
Loading
Loading
Loading
Loading
Loading
Loading
Loading
№. 1 __ 17
Name
FoodFuels

FoodFuels is all about changing the game and rewriting everything you thought about healthy eating, meal plans, and live support. Our program focuses on eating real food from every food group — a principle that brings incredible results.

The system is all about:

Real coaches;
24/7 support;
Personalized Meal Plan;
Simple & home made recipes.

View Details

Ecorial

Ecorial® is the first and only global community focused on honoring and memorializing our loved ones when their ashes are scattered, placed, or buried in nature. Ecorial® makes it simple and easy for family and friends to permanently record the time, date, and GPS coordinates of any final resting place outdoors, whether it's in the mountains, a forest, an ocean, a yard…anywhere.

View Details

YogiBirth

Created by midwife and pregnancy yoga teacher - Laura Myers - YogiBirth combines pregnancy yoga, meditation and childbirth education into a 'stretch-&-learn' pregnancy yoga programme.

Classes are tailored to your trimester and designed to support your mental, physical and emotional wellbeing throughout pregnancy.

View Details

Arkuri

ARKURI marks the beginning of a new era in transport safety. An innovative locking mechanism, sophisticated software, latest communication technology, state-of-the-art materials and revolutionary design - resulting in a product that meets the highest security standards and gives you total peace of mind.

Toolsy

Toolsy is a peer-to-peer marketplace where you can rent any tools and equipment you need whenever you need it.

Connecting equipment owners and construction's entrepreneurs, Toolsy is the fastest growing Tool and equipment renting app in North America.

We have made renting easy and effortless!

Librarius

Librarius is a modern library in your smartphone with the ability to rent and buy books, as well as read thousands for free. Online and offline!

Novels and non-fiction bestsellers, world classics and children's books, motivational literature - all in one mobile application. Use the digital library, which is always at hand.

Read anywhere, anytime.

FLY Concierge

A simple guide to a complex city.
Find the coolest restaurants, bars and attractions with one touch.
FLY Concierge makes tourists feel like locals and locals feel like insiders.

Experience VIP Access
Exclusive Perks
Complimentary Drinks
Dining Discounts at Elite NYC Venues

CTRL Money

We are on a mission to make personal finance accessible to everyone.

Ctrl.Money is fully automative tool to sort out all your expenses in one place.

See all of your accounts, incomes, bills, subscriptions, projects, payments... in one place

Celebrity NDA

Celebrity NDA™ is the future of privacy on your mobile phone! It is impossible to keep your interactions private in today's era, so we created Celebrity NDA for high profiles professionals with a person's right to privacy in mind.
Our technology allows users to populate a Non-Disclosure Agreement fully legal in all 50 states with electronic signatures. Our NDAs includes a confidentiality agreement and an ADR clause to keep you secure at all times.

Breverie

Breverie is all about you and your journey. It is on a mission to empower girls and women around the world to achieve their dreams. It can help uncover this magic power and to equip you with the tools you need in order to succeed on your journey.

You have your own starting point and your own definition of happiness. You will face your own challenges along the way. All of this makes your journey one of a kind.

View Details

Skill App

Skill app makes code learning easy. Our powerful Integrated Development and Learning Environment ( IDLE ) lets you learn - by - doing and get feedback on key concepts immediately.

Get started with coding fundamentals and problem - solving today.

Wayme

Wayme is based on Augmented Audio Reality — technology that makes you feel like someone is guiding you through the city while sharing their personal stories along the way. A wayme walk is full of sound effects, ambient, jokes, and personal stories that immerse you deep in the story and make you feel like an old friend is taking you on a personal tour.

Chatsumer

The app that gives you access to high street stores, products, and promotions with just a few clicks.

Chatsumer is an easy-to-use instant messaging app that connects you with local retailers and lets you talk directly to them, one-on-one.

It's the quickest, easiest way to shop the high street.

View Details

Walky Fit

TRACK ACTIVITY: Accurately record your steps and distance when you carry your phone. For all-day tracking of stats.

STAY MOTIVATED: Get a nudge in the right direction with notifications when you're reaching a goal or have already met one.

FRIEND LOCATOR: The app enables GPS location tracking between all the community users in a private network. Easily contact an endless number of friends or family members and start tracking.

VPN Zone

In the world of hundreds VPN apps, we developed the greatest VPN so far that provides with:

No registration or configuration required.
Access to 70 + locations worldwide;
400 + high-speed VPN servers;
AES-256 Encryption Protocol;
zero logs policy;
Unlimited traffic;
24/7 customer support provided.

View Details

Sahmik

Sahmik is the go-to app for financial information!

Finally, a modern, user friendly mobile app that allows you to follow your investments with a centralized in-depth metrics and insights. We take pride in our data accuracy; we provide corporate actions, and financial data directly from their source, instead of unreliable third-party providers.

Our industry news feed ensures that you stay current with the latest articles, corporate updates, and personalized price alerts.

Youmari

YouMari - is the ONLY self-treatment, clinical quality system in the world developed based on the industry's most effective provider-applied care models.

Get your personal treatment program!

Use the 3D model in our Symptom Checker to mark the problem areas. Answer the questions from virtual assistant YouMari and get your personal treatment program
Statistics
Goal Achieving Rate

79.5 %

Subscribed Users

1.3k/ month

Average revenue

$2m / year

From MVP to Profit

in 1 year

Average Engaging Time

4m 58sec

From MVP to profit

in 1 year

Average Revenue

14k+ /month

Unique Users

13.5k / month

Created

the first ever pregnancy yoga community in Australia

Unique

Hardware SmartLock controlled by phone's BLE

Developed

in collaboration with Israel - Austrian company

Achievement

The first Machinery renting marketplace in Canada

Average Revenue

undisclosed

Achievement

The most secured e - book reader on the market

Achievement

The first ever digital Ukrainian e - books

Assigned businesses

441 Restaurant

Achievement

First ever fully automated budgeting app

Unique

Machine Learning matching system

Complicated

integration with OpenBank API

Achievement

First ever fully legally protected digital NDAs

Unique

video signing proofs

Revenue

Over $5k in the first week

MVP Development Timeline

6 months

Average Engaging Time

17m 31sec

Created

34 tours in 13 cities

MVP development timeline

5 months

MVP development timeline

4 months

Development timeline

8 months

Average time spent

24 min / day

MVP development timeline

4 months

MVP development timeline

4 months

Developed in Association

with OAE - based company

Unique

AI for symptom detection

Development timeline

7 months
So... What to choose?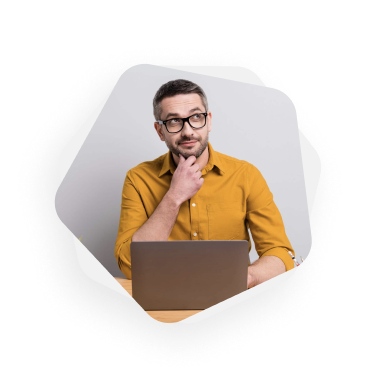 You would probably want to have both platforms' coverage. But as a rule, it is quite expensive. So, would you choose clumsy cross-platform or move with Native MVP? That's what we would suggest moving forward with.
We are sure that the best solution here is unbundling.
And here is a free guide for you:
Sort out own targeting audience;
Check the market coverage of your targeting audience;
Launch a single platform with a great experience.
If you don't have a direct market need, an alternative for you could be a custom web app. In this case, you can cover both iOS & Android platform users.
What's more, if you are going to have a content-based marketing strategy the Web App would work even better for you.
iOS Development

As a rule, the iOS platform is launched in the next cases:

As a first platform for:

UK, USA, & Canada;
Scandinavian countries;
Israel & UAE;
Japan; and
Australia.

if you are targeting a wealthy audince.
In terms of scaling tactics.

Read more

Android Development

As a rule, the Android platform is launched in the next cases:

As a first platform for:

Western Europe;
Asian countries;
Post Soviet Union Countries;
Latin America; and
African countries.

In terms of scaling tactic
Targeting below middle-class users.

Read more

Web Development

Originally, web apps are launched in the next cases:

If the app is related to the professional sphere (where users need a keyboard, i-net surfing, etc);
In terms of scaling tactic once other platforms are generating profit;
Otherwise, it would be hard for you to attract users, but there is always a place for test.

Read more
What's next?
Once the MVP app is ready, the best would be if you concentrate on tracking users' behavior, promoting your app, and gathering feedback. As a rule, it requires even more effort than MVP development. But once, you are sorted out all users' feedback, once your user retention is great, you will be ready to move to Scaling Stage.
Go to Scaling Stage
How much does it cost?
We know what does it mean to be an entrepreneur. We are in contact with Y-Combinator, Decelera, and R3 accelerators and Investors. That's why we have a deep understanding of startup costs. Here you can find all the calculators your startup might ever need. Feel free to check any you need. p.s. we don't need your email to share the value!
Need more
information?
We are pleased to answer any questions. You are Launched team at your service. Feel free to book a call with our founder.
Relevant Tips & Tricks
For the last 5+ years, we've sorted out the most common topics and issues that any startup face. Based on this, we are pleased to share some cornerstone topics with you. p.s. don't forget to subscribe and receive new topics.